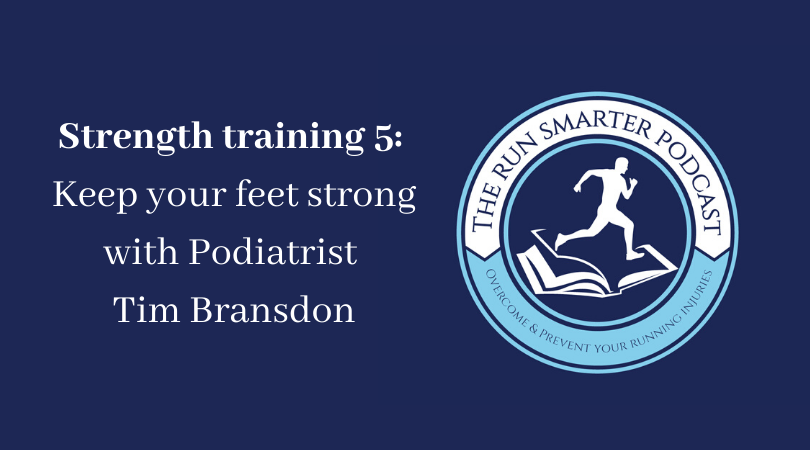 My conversation with Podiatrist Tim Bransdon
We complete the strength training for runners season by squeezing in one more episode. We highlight the importance of foot strength for running and everyday life with Tim Bransdon. Can we overcome plantar fasciitis, heel pain, foot pain with functional strengthening? If so, how?
We look at some practical tests you can perform at home to determine your level of:
foot balance
foot coordination
functional strength,
High level spring
overall function
Tim also talks about the role of orthotics for runners, foot shape and pronation. Does the structure of your foot determine your level of recovery, or does strength and function play a more important role? If your plantar fasciitis is so severe that it is painful walking, Tim talks through your first steps to recovery. He discusses the importance of establishing the correct mindset and empowering you through careful stages of rehabilitation.
Tim Bransdon is a podiatrist from Wollongong Podiatry and is also part of the Running Lab conducting StrongFeet programs for health professionals. Learn how to practically implement strengthening exercises into your routine no matter how strong you are or what equipment you have available.
Congratulations on listening to this podcast and starting your run smarter journey. This podcast is designed to help you build on your running knowledge, so you can tackle all your running goals. Hosted by Brodie Sharpe with the mission to 'bring clarity & control to every injured runner'. Firstly, gain the universal principles every runner needs to know by listening to the first podcast seasons. Secondly, find podcast topics tailored to your specific situation with either Brodie's solo episodes, or special guest episodes. Lastly, execute on what you learn and transform into a stronger, healthier, SMARTER runner.
Relevant Links:
Other podcast episodes:
Relevant Blog posts:
https://runsmarter.online/wp-content/uploads/2020/02/Principle-1-to-Overcome-your-Running-Injury_-Adaptation-Education-15.png
450
810
Brodie Sharpe
http://runsmarter.online/wp-content/uploads/run-smarter-header-logo.svg
Brodie Sharpe
2020-02-21 01:12:01
2020-09-25 13:53:43
Strength Training 5: Keep your feet strong with Podiatrist Tim Bransdon